Biographies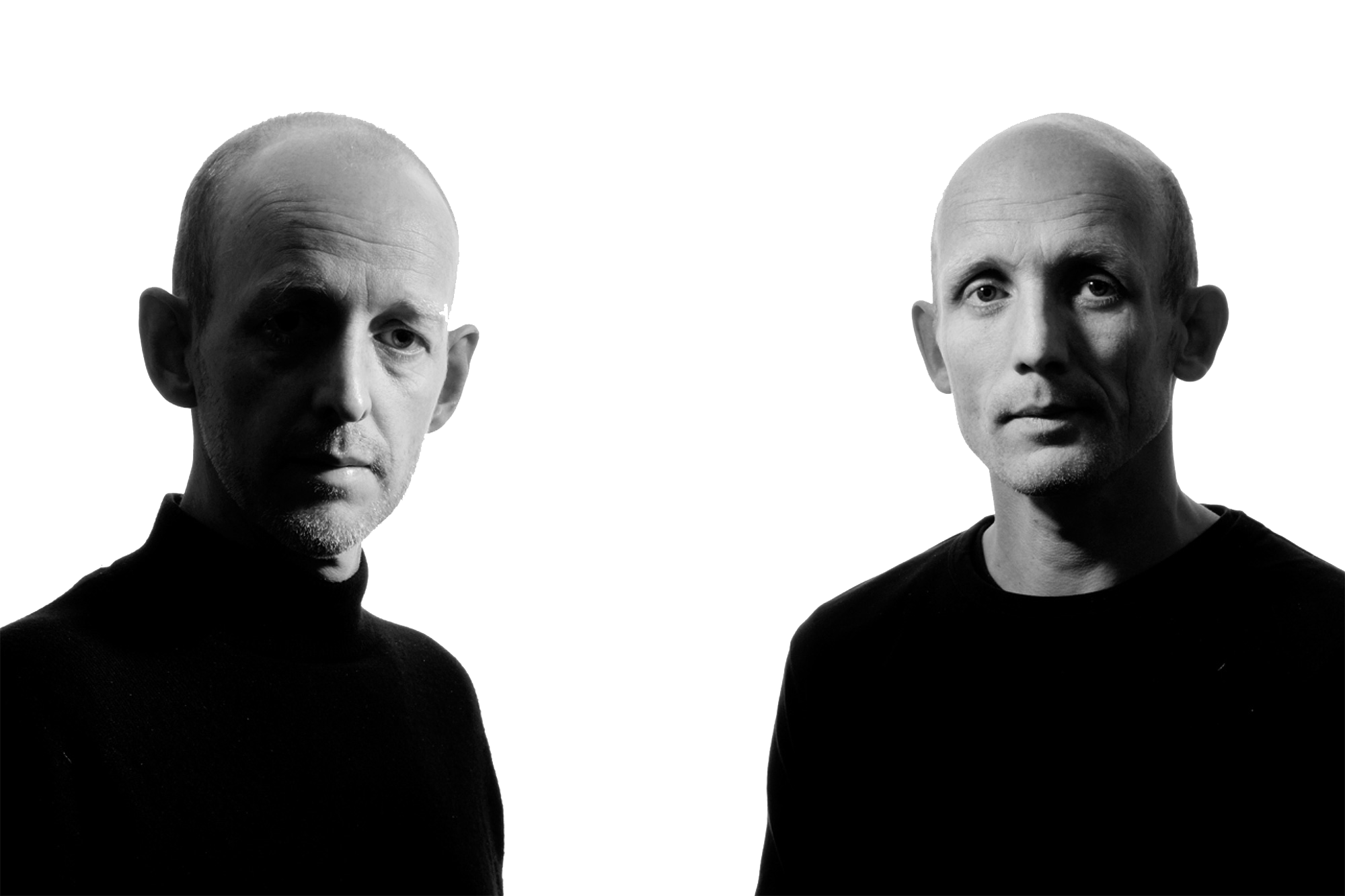 biographies
André Décosterd
1967
Born in Le Locle (CH)
1984-1988
Apprenticeship in organ factoring, Neuchâtel (CH)
1995
Diploma from the Ecole de Jazz et de Musique Actuelle (Ejma) in Lausanne (CH)
1997
Founds the group Cod.Act with Michel Décosterd
since 1997
Musician and composer. Specialises in computer programming of musical applications. Studies composition systems specific to electroacoustic and contemporary music, in particular algorithmic composition.
Michel Décosterd
1969
Born in Le Locle (CH)
1994
Diploma of architecture at the Engineering school of Biel (CH)
1997
Founds the group Cod.Act with André Décosterd
since 1997
Plastic artist. He begins with photography and builts kinetic devices that produce moving images from light and translucent material. After that, he leave the field of image and aquires more competences in the area of materials technology and mechanics. He focuses his plastic researches on the machine and particularly on the movement. Invents and builds kinetic sculptures.
Jacques Décosterd
Since its inception, Cod.Act collaborates with Jacques Décosterd (1936), engineer in the fields of industrial computer sciences and automation systems.
presentation
awards+distinctions
Winner of the Swiss Grand Award for Music 2019
Honorary mention, Cynetart 2018, Dresden (DE)
Award of Distinction – Sound Art, MA/IN Festival 2018, Matera (IT)
Nomination, Art division, 21st Japan Media Arts Festival 2018 (JP)
Excellence Award, Art Division, 18th Japan Media Arts Festival 2014 (JP)
1er prix, Concours Culture Numérique 2013, Pour-cent Culturel Migros (CH)
Golden Nica Interactiv Art, Ars Electronica 2013, Linz (AT)
Grand Prize Art division, 16th Japan Media Arts Festival 2012, Tokyo (JP)
Nomination, New Technological Arts, NTAA 2012, Gent (BE)
Mention honorifique, VIDA Concurso Int'l Arte y Vida Artificial, 2012, Madrid, (ES)
Mention honorifique, Transitio_MX 04 (2011), Mexico City (MX)
Grand Prize Art division – 14th Japan Media Arts Festival 2010, Tokyo (JP)
1st prize Cynetart 2010, Dresden (DE)
Award of Distinction Sound Art – Ars Electronica 2010, Linz (AT)
Prix Culturel 2009 – Banque Cantonale Neuchâteloise, Neuchâtel (CH)
Nomination – Japan Media Art Festival 2004, division Art interactif, Tokyo (JP)
Nomination – Prix international de l'art des Nouveaux Medias 2004, ARTE-ZKM Karlsruhe (DE)
exhibition venues
2022
Swiss Robotics Days, EPFL, Lausanne (CH)
Blooming Festival, Pergola (IT)
Exhibition "in transfer-a new condition"- Esch2022 – European Capital of Culture (LU)
Inauguration du Quartier des Arts Plateforme 10 – Lausanne (CH)
Percussions Festival International-Lausanne (CH)
Festival "Un été au Havre" Le Tetris – Le Havre (FR)
2021
IFVA Festival, Hong Kong Art Centre
Art's Birthday 2021, E-Werk, Freiburg (DE)
Klang Moor Schopfe, Festival für audivisuelle Kunst, Gais (CH)
Total Cod.Act, Retrospective, La Chaux-de-Fonds (CH)
Flash! Festival, Bern (CH)
2020
Winterwarm Festival, Kasterlee (BE)
Idee und Klang, Basel (CH)
Festival les Battements de l'Abbatiale, Bellelay (CH)
Festival Label Suisse, Lausanne (CH)
Ferme des Tilleuls, Lausanne (CH)
2019
Maker Faire, Roma (IT)
Musée des Beaux-Arts, La Chaux-de-Fonds (CH)
Kunstmuseum, Basel (CH)
Festival L'Instant T, Besançon (FR)
Art Rock Festival, Saint-Brieuc (FR)
Sensorium Festival/Design Week, Bratislava (SK)
ItaúCultural, exhibition "Cybernetic Consciousness", Sao Paulo (BRA)
Saint-Ex Culture numérique, Reims (FR)
ARS Electronica&Tokyo Midtown, The School of the Future, Tokyo (JP)
2018
Perm Museum of Contemporary Art, Perm (RU)
Unidram Festival, Potsdam (DE)
20 jahre Medienkunst und Digitale Kultur in der Schweiz, HeK, Basel (CH)
KIKK Festival, Namur (BE)
Cynetart Festival, European center for Arts Hellerau, Dresden (DE)
Matera Intermedia Festival, Matera (IT)
Speculum Atrium 10, New Media Culture Festival, Trbovlje (SL)
ARS Electronica Festival, Linz (AT)
La Nef, Le Noirmont (CH)
BIAN 2018, Biennale des Arts numériques, Montreal (CA)
Fimu Festival, Espace Multimédia Gantner, Belfort (FR)
2017
ACA Chronus Art Center, Shanghai (CN)
Némo festival, Centquatre-Paris, Paris (FR)
marionNEttes, 17e Festival International, Case à Chocs, Neuchâtel (CH)
Oslonight festival, HeK, Haus of Electronic Arts, Basel (CH)
Festival Ars Electronica, Linz (AT)
Exposition "unREAL. The Algorithmic Present", HeK, Basel (CH)
Schafhof/Europäisches Künstlerhaus Oberbayern, Munich/Freising (DE)
2016
Mad Scientist Festival, Musée d'Histoire Naturelle, Berne (CH)
BIFEM, Bendigo International Festival for Exploratory Music – Bendigo (AUS)
Olympic Games 2016 Rio, House of Switzerland (BRA)
Pushkin State Museum of fine Arts, Moscou (RU)
Exhibition Mobili-té-tät-tà-ty, APCd Fondation, Marly (CH)
Centre d'Art Contemporain Quartier Général, La Chaux-de-Fonds (CH)
Festival Forum Wallis, Leuk (CH)
International Intermedia Festival Interstice, Caen (FR)
2015
Malta International Arts Festival, La Valetta (MT)
Exhibition L'Humen, La Nef, Le Noirmont (CH)
Sonar festival, Barcelona (ES)
Festival FIMU, Espace multimédia Gantner, Belfort (FR)
Exhibition Short Cuts, Centre PasquArt, Kunsthaus, Biel (CH)
Elektra16, Digital Arts Festival, Montreal (CA)
Exhibition Quantum of Disorder, Museum Haus Konstruktiv, Zürich (CH)
Resonate'15, New Technologies Art Festival, Belgrade (RS)
Future Everything Festival, Royal Northern College of Music, Manchester (UK)
FITC Tokyo 2015, a Design and Technology Festival, Tokyo (JP)
18th Japan Media Arts Festival, The National Art Center, Tokyo (JP)
2014
Présences électroniques, Théatre du Grütli, Genève (CH)

Festival Automne en Normandie, Abbatiale Saint-Ouen, Rouen (FR)
Digital Art Festival 2014, Digital Art Center, Taipei (TW)
Festival Novelum / Théâtre du Capitol, Toulouse (FR)
Coreana Museum of Arts, Exhibition Performance-Multiplicity, Séoul (KR)
Roma Europa Festival, Digital Life 2014, Rome (IT)
Bozar Electronic Art Festival 2014, Palais des Beaux-Arts, Bruxelles (BE)
Eyeo Festival 2014, Creative Coding, Walker Art Center, Minneapolis (US)
Musée des Beaux-Arts, 150e anniversaire, La Chaux-de-Fonds (CH)
Technarte International Conference on Art & Technology, Bilbao (ES)
Kunsthalle Mucsarnok, Budapest (HU)
Fashion Week, Hammerstein Hall Theater, New-York (US)
2013
Galerie Immanence, Paris (FR)
Nemo, Festival d'Arts numérique, le Centquatre, Paris (FR)
Bozar Electronic Arts Festival, Bruxelles (BE)
Festival Scopitone, Nantes (FR)
Festival Les Jardins musicaux, Cernier (CH)
Festival ARS Electronica, Linz (AT)
WRO Medias Art Biennale, Wroklaw (PL)
International Intermedia Festival Interstice, Caen (FR)
Malta Festival, Poznan (PL)
Bron RVB n, Le festival des arts numériques, Installations, Bron (FR)
Japan Media Arts Festival 2013, Grand Prize Art Division, Tokyo (JP)
Festival Mois Multi, création pour l'Orchestre Symphonique de Québec, Québec (CA)
2012
Das Theater um die Muhsiiik, Festival zum aktuellen Musiktheater, Dampfzentrale, Berne (CH)
NTAA 2012, New technological Art, Gent (BE)
MA – Scène Nationale, Scène Numérique, Montbéliard (FR)
Crisalide Festival, Performing Arts Festival, Forli (IT)
KSEVT – European Cultural Center of Space Technologies, Vitanje (SI)
Musée des Beaux Arts, Le Locle (CH)
Festival Electron, Gruetli Black Box, Geneve (CH)
Festial Rokolectiv, Musée d'Art Contemporain, Bucarest (RO)
Exposition, Espace Multimédia Gantner, Bourogne (FR)
Festival Fimu, Belfort (FR)
Château de La Sarraz, 100 ans de société du Musée Romand, La Sarraz (CH)
2011
Digital Brainstorming, Theater der Künste, Zürich (CH)
Forum für neue Musik, Südpol, Luzern (CH)
Théâtre Nuithonie, Fribourg (CH)
Théâtre de l'Oriental, Salle del Castillo, Vevey (CH)
Elektra 12, International digital Art Festival, Montréal (CA)
Centre culturel ABC, La Chaux-de-Fonds (CH)
Mois Multi 12, Festival d'Arts multidisciplinaires et électroniques, Québec (CA)
14th Japan Media Art Festival, National Art Center, Tokyo (JP)
New Media Art and Video Festival, Centro Nacional de las Artes, Mexico City (MX)
2010
Festival CYNETART 2010, Dresden (DE)
IN-SONORA, VI Muestra de Arte Sonoro e Interactivo, Madrid (ES)
Rolex Learning Center, EPFL, Lausanne (CH)
Festival Ars Electronica, Linz (AT)
Les Jardins Musicaux 2010, Saline Royale, Arc-et-Senans (FR)
Festival Wunderland 2010, Château de Rue, Canton de Fribourg (CH)
Galerie Voltahalle, ART / Basel 2010, Basel (CH)
2009
Semaines internationales de la Marionnette, Rhyno-studio, Neuchâtel (CH)
Climat no. 3, Festival Hespérides II, Musée Cantonal des Beaux-Arts, Lausanne (CH)
2008
Inauguration du chantier de la gare de Bienne, Bienne (CH)
2007
Festival Agora, IRCAM, Centre Georges Pompidou, Paris (FR)
Galerie Plug-in, Bâle (CH)
EPAF 07 – European Performance Art Festival, Centre for Contemporary Art, Ujazdowski Castle, Warsaw (PL)
Galerie Otwarta Pracownia, Cracovie (PL)
Semaines internationales de la Marionnette, CAN – Centre d'art contemporain, Neuchâtel (CH)
2006
Musée des Beaux-Arts, La Chaux-de-Fonds (CH)
Centre culturel A-post, Le Locle (CH)
Théâtre Arsenic, Lausanne (CH)
Homemade Festival, Villa blanche Le Corbusier, La Chaux-de-Fonds (CH)
Homemade Festival, Kunstraum Walcheturm, Zürich (CH)
4X10, Kongresshaus, Biel (CH)
2005
Brainhall 05, Festival für Geraüsche, Lucerne (CH)
Point d'Impact 05, Festival Performance et vidéo, Centre d'Art contemporain, Genève (CH)
Earweare 05, Sound Art Festival, Bienne (CH)
Mobileart 05, symposium Genetics&Art, Göteborg (SE)
Science et Cité/Brainweek 05, Musée des Sciences, Genève (CH)
Musée cantonal de Zoologie, Lausanne (CH)
Break 2.3, 8th. International Festival of independent Artists, Ljubljana (SI)
2004
Centre culturel ABC, La Chaux-de-Fonds (CH)
Garage 04, Festival für Film und Radiokunst, Stralsund (DE)
LeLocle Print, Triennale internationale de l'estampe contemporaine, Le Locle (CH)
Internationale Kulturtage Nordrhein/Westfallen, Künstlerhaus/Mex, Dortmund (DE)
Espace Piano Nobile, 10ème Biennale, Centre pour l'Image contemporaine St.Gervais, Genève (CH)
ISCM World New Music Days 2004, Lausanne, La Chaux-de-Fonds (CH)
2003
Centre culturel ABC, La Chaux-de-Fonds (CH)
Ostquai Kunstverein, Bâle (CH)
Musée cantonal des Beaux-Arts, Lausanne (CH) – Galerie Impressions, La Chaux-de-Fonds (CH)
2002
Belluard Bollwerk International, Festivale d'Art contemporain, Fribourg (CH)
IV Biennale d'Art contemporain, Manege Exhibition Hall, St Petersburg, (RU)
Centre culturel ABC, La Chaux-de-Fonds (CH)
Bogen 13, Kulturzentrum, Zürich (CH)
2001
Musée des Beaux-Arts, La Chaux-de-Fonds (CH)
Audioart, Festival for experimental Music, Cracovie (PL)
2000
Bach symposium 2000, Théâtre Witkace, Zakopane (PL)
Eskulap Art Centre, Posnan (PL)
Artkontakt 02, New Media European Festival, Lublin (PL)
1999
Ecole nationale de Cinéma, Lódz, (PL)
Weimar Kulturstadt Europa, programme officiel, ACC Galerie, Weimar (DE)
Théâtre Laznia, Cracovie (PL)
Commémoration des 10 ans de la chute du mur, ACUD Kunstverein, Berlin (DE)
Performance Art Centre, Lublin, (PL)
Galerie Pegaz, Zakopane, (PL)
conferences
2022
Swiss Robotics Days, EPFL, Lausanne (CH)
2021
Total Cod.Act, Retrospective, La Chaux-de-Fonds (CH)
2020
Idee und Klang, Basel (CH)
Ferme des Tilleuls, Lausanne (CH)
2019
Tokyo Midtown, The School of the Future, Tokyo (JP)
2018
Association La Dérivée, Bibliothèque municipale, Yverdon (CH)
2017
Département audiovisuel, Bibliothèque de la Ville, La Chaux-de-Fonds (CH)
2016
Pushkin State Museum of fine Arts, Moscou (RU)
2015
KIKK International Festival of Digital Cultures, Namur (BE)
UP La Chaux-de-Fonds, La Chaux-de-Fonds (CH)
Resonate '15, New Technologies Art Festival, Belgrade (RS)
FITC Tokyo 2015, International Symposium Design and Technology, Tokyo (JP)
Japan Media Arts Festival, The National Art Center, Tokyo (JP)
2014
Eyeo Festival, Minneapolis (USA)
Technarte International Conference on art & technology, Bilbao (ES)
Haute école de musique, Genève (CH)
ETH, Chair for Computer Aided Architectural Design, Zürich (CH)
 2013
Festival Ars Electronica, Linz (AT)
International Intermedia Festival Interstice, Caen (FR)
Japan Media Arts Festival, Tokyo (JP)
2012
Club 44, La Chaux-de-Fonds (CH)
EJMA, Ecole de Jazz et de musique actuelle, Lausanne (CH)
Musée des Beaux-Arts, Le Locle (CH)
International Intermedia Festival Interstice, Caen (FR)
GVA Sessions – Profesionnal Contemporary Dance Training, Geneva (CH)
IRCAM, Forum, Paris (CH)
Festival Ars Electronica, Linz (AT)
Theater der Künste, Zürich (CH)
Japan Media Arts Festival, Tokyo (JP)
2007
download + print